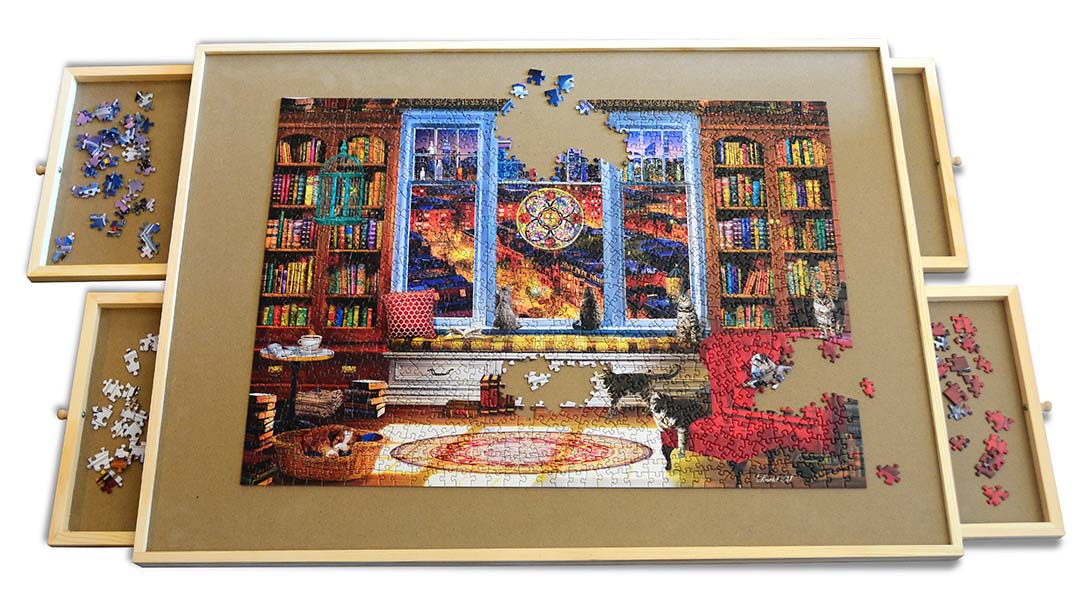 Do you have a special place to work on your puzzles? Do you have a puzzle board that's exclusively for you or do you have to take over the dining room table from time to time? Do you work only in one place or do you roam the house and puzzle all over?
I'm always interested in how others get their jig on, so to speak.
When this post starting forming in my brain it had me thinking about how my Grama (who instilled in me my love for jigsaw puzzles) used to work on her puzzles, and I'm amazed at where she chose to puzzle. She always sat in "her" chair in the living room and used a huge piece of cardboard that she placed on the big footstool in front of the chair. Thinking about how much leaning over that required, I'm stunned she didn't develop back problems. When my sisters and I would spend the night at her house there were many times when we went to bed and Gram was working on a puzzle; when we got up in the morning she was still sitting there in her pajamas in front of the board and the puzzle was much closer to completion. I used to think to myself that I couldn't wait to be a grownup so I could stay up all night if I wanted to and work on puzzles. (I have done so on several occasions, and it is very nice not to have to answer to anyone about my bedtime, that's for sure.😉)
Mom used a big sheet of white board paneling, cut down to a manageable size, that my dad bought from the hardware store. When she was working on a puzzle she'd put it on top of her big table in the office (it had plenty of room for us to sit side by side and puzzle together when I visited), and when she needed the table for other things she'd just pick up the board and set it on the day bed. She also worked late into the night on puzzles, especially if we hadn't finished a puzzle on one of our Friday visit days. She'd text me a picture of the finished image and say something like "worked on this one till 3 am, but we finally got it done!".
I have several boards and have both a dedicated room where I work on my puzzles, and extra boards and trays so that if need be I can work on larger and smaller puzzles in other rooms of the house. My main boards were made by hubby, my mom, and me – it was definitely a team effort.
My fantastic husband helped me to make a board to work the giant 40,320 piece Disney puzzle, measuring 5 feet by 4 feet, plenty of room for each section to be completed. Mom and I found some gorgeous suede-like fabric on clearance at Joann Fabrics that was perfect for the cover. I purchased enough material to cover a smaller board (4′ x 3′) and 2 large boards (5'x 4′) for about $12. We bought a 4′ x 8′ sheet of sub-flooring (luan) for about $13, and cut it into the 2 sizes I wanted. Mom and I then glued the material on the boards and for about $25 total I have two beautiful jigsaw boards, and they are extremely nice for working puzzles. The fabric makes it so the pieces don't slip around easily and the color makes a nice background contrast so the pieces are easier to see.
The smaller board fits puzzles up to approximately 3000 pieces and is the main one in use. The larger one was primarily for my Disney monster, but is also needed for some bigger piece count puzzles I still have to get to. Plus I have a white board (dry erase) that I use when working on larger puzzles in bed, and various other boards that can be put to good puzzle use if need be. And let's not forget my paper-lined cookie sheets that I use for our bathroom puzzles and for working on small puzzles in bed. 🛌🧩
Well, that's where and how three generations of women in my family got/get their jig on. I'm certain most people's homes aren't as crazy with so many boards and places to work on jigsaw puzzles as mine is, but I'd love to hear where and how you puzzle.